I don't know about you, but when I am busy at work my creativity tends to dry up and that has been my reality for the last few months.
I have also been busy trying to finish stitching Christmas gifts. Because of the deadline, I didn't want to start any new stitching projects until they were finished, and as they took far longer than I expected I had a few projects (that I was itching to start) that were just collecting dust.
Thankfully I have been able to start them now and they include kits from Wildfloss and Innocent Bones.
This is not my picture but is the sample from the new embroidery kit I am working on from Wildfloss.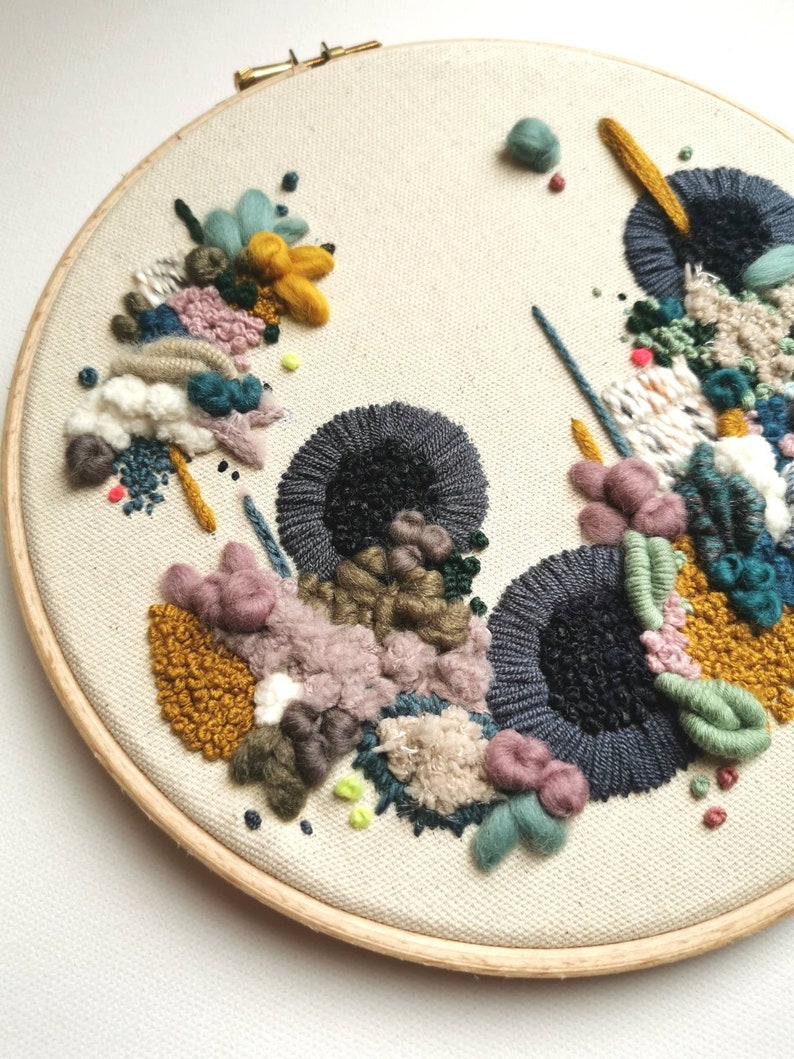 I have completed every Wildfloss kit so far and I love them.
I have been embroidering for about 18 months now but would still consider myself a beginner so I find these kits perfect. They offer the right balance of pattern/guidance to creative freedom.
The cross stitch pattern I am working on from Innocent Bones is from the latest Mood Box.
I haven't paid for a subscription box for a lot of years, but having seen an advert for the Mood box earlier this year I thought I would give one box a go, but here we are, 8 months later I am still subscribed and have no intention of stopping.
I have also purchased 8 stand-alone kits, and have the advent calendar waiting for me, so you can tell I really am a fan.
I won't share a picture of this piece as I don't want to share the surprise if people are behind but here is a past pattern and you can find more details about all the contents of the boxes here.
I do need to find a way to display my hoops - if anyone has any no-nails suggestions on how to get these on the wall they would be most appreciated.
I have also spent some time in my art journal over the last few weekends - not as much as I would like but some time is better than no time.
And these dolls were from a class by the fabulous Tracy Scott. It was the first class I have taken with Tracy but it won't be the last.
As soon as I saw these dolls as part of a sample for Tracy's new stamps (which I love) I was keen to learn how to make them.
I already have a second set of dolls in my journals just waiting for their faces as this was such a fun technique.
Simple yet effective, versatile, and different every time !!
I have recently purchased 2 Domestika courses on portrait painting as I want to work on my faces so that's what I will be working on next.
What creative projects are you working on at the moment?